One of the top health facilities in Yangon
Check out our latest services and blog
Sakura hospital, one of the most historic private hospitals in Myanmar, was opened since 1st January 1998. Our hospital is the 10th storey building with underground basement that can accommodate 150 beds for our admission customers. The building is located at No.23, Shin Saw Pu Road, Sanchaung Township, Yangon. From 2009 March, Sakura hospital is being run by the new owner.
Starting from 2009, we have been upgrading and investing both materials and personnel to reach international level. We are providing multidisciplinary medical care services not only with modern day medical technologies and equipments but also with excellent and prompt treatments.
We always take care of our customers with well-experienced and trained medical doctors, nurses and also with expert professional staffs in every respective department. We can also arrange for specialists on call service. We always focus on our customers' well-being and delightfulness.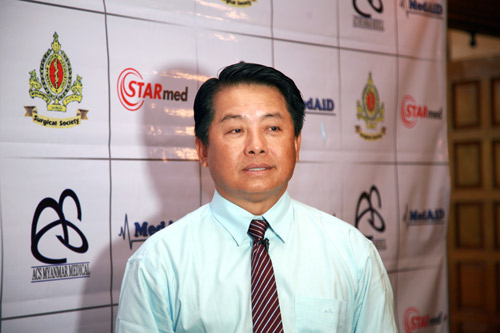 Name – Dr.U Htin Paw
Date of birth – 28.3.1960
Birth place – Pyinsalu Village, Laputta Township, Irrawady Division
Father's Name – U Ah Si
Mother's Name – Daw Nyunt Nyunt
High School – No. (1), SHS Lanmadaw Township, Yangon
Medical Institute – Institute of medicine (1), Yangon
Graduated – 1986
General practitioner – 1987 to 1989
Accident and emergency doctor – 1989 to 2000 in Taiwan
Investment and management
(1)Academy Hospital since 2000 up to now
(2)Sakura Hospital since 2008 up to now
Maritine University – Dip in SM (2011 to 2013)
MPHA – Vice President (Elected since 2012)
Ask Us right here online about your medical questions and we will try to answer them promptly.
Address
No.23, Shin Saw Pu Road, Sanchaung Township, Yangon, Myanmar (Burma).
Contact Us At
+95-1-512 668
Or contact us through this online form